Season 1, Episode 8
The Perfection (2019)
The Perfection (2018)
Rating: 6.1/10 (23,892 votes)
Director: Richard Shepard
Writer: Eric C. Charmelo, Richard Shepard, Nicole Snyder
Stars: Allison Williams, Alaina Huffman, Steven Weber, Logan Browning
Runtime: 90 min
Rated: TV-MA
Genre: Drama, Horror, Thriller
Released: 24 May 2019
Plot: When troubled musical prodigy Charlotte (Allison Williams) seeks out Elizabeth (Logan Browning), the new star pupil of her former school, the encounter sends both musicians down a sinister path with shocking consequences.
Listen to the Full Episode Now!




Our season one finale is here! Strap in and hold on tight because this ride is about to go off the rails! This week we discuss one of our favorite horror movies of the year, The Perfection! We highly recommend that you go into this movie totally blind and don't even read the rest of this post because of potential spoilers! CW: Sexual abuse (happens off screen).
Topics include: our Halloween traditions, the inspiration for making this movie, how it felt to go into this movie TOTALLY blind as horror fans who love camp, we talk cults & grooming, we touch on the mental state of one of our main characters and the "psycho lesbian trope", the ongoing theme of loss, we discuss Charlotte and Lizzie's relationship and how thrilled we were to see a queer couple in a horror film, cinematography, music, THE WIG ON A WIG, what a sequel might look like (Lizzie/Charlotte rom-com anyone?), fun facts and trivia, and we hand out awards! Join us! Our next episode will be out 11/25 for our Thanksgiving special where we will discuss John Water's Serial Mom from 1994!
Ketchum's recommendations for Halloween fun: 
Danse Macabre from PBS 1980s
Midnight Hour ABC Special 1985 (complete with 80s commercials!)
Great interview with Allison Williams on the For All The Nerds Show (Interview starts at 15 mins)
Great interview with Logan Browning on the For All The Nerds Show (interview starts at 24 mins)
'The Perfection': Allison Williams, Logan Browning & Director Richard Shepard Talk About Their Insane New Body Horror (interview with The Playlist)
Share your scariest horror movie stories or ask us questions and we will put together a special episode where we will play your voicemails and respond and comment.
This week's movie question: Do you agree with their revenge? If not, tell us how you would have handled this matter? Call us now if you would like to share your thoughts on the horror hotline 662-DOUBLEA.
Be sure to check out and bookmark our companion music playlists on Spotify and Youtube. Each week we will update them with songs from the movie as well as any other songs that come up during the discussion.
This episode was edited by Amy Kasio and mixed by De.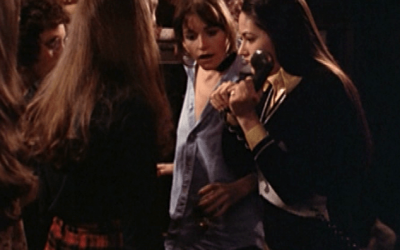 The first final girl? Join us as we dive deep in discussion about this holiday slasher classic starring Margo Kidder and Olivia Hussey.
read more