Season 1, Episode 9 – Thanksgiving Special
Serial Mom (1994)
Serial Mom (1994)
Rating: 6.7/10 (25,279 votes)
Director: John Waters
Writer: John Waters
Stars: Kathleen Turner, Sam Waterston, Ricki Lake, Matthew Lillard
Runtime: 95 min
Rated: R
Genre: Comedy, Crime, Thriller
Released: 13 Apr 1994
Plot: A sweet mother finds herself participating in homicidal activities when she sees the occasion call for it.
Listen to the Full Episode Now!




We are back for a special Thanksgiving bonus episode! Join us and our special guest De as we discuss John Water's Serial Mom from 1994! Movie discussion starts at 31 mins! In this episode we talk about how we all know each other and the Myspace days, Thanksgiving plans and food, 420, Kasio and De's new podcast about Curb Your Enthusiasm, pop culture of 1994, My So Called Life and VCR drama, history of making the movie, the true crime influence, cinematography, music, L7 and The Bloody Tampon, our fave kills, our fave scenes, UFO's, and we hand out awards!
Subscribe to Kasio and De's new podcast: Larry! A Curb Your Enthusiasm Podcast everywhere you get podcasts! First ep drops in January! Follow them on: Twitter and Instagram
Share your scariest horror movie stories or ask us questions and we will put together a special episode where we will play your voicemails and respond and comment.
This week's movie question: If there were a Serial Mom sequel, what would it be called and what would it be about? Call us now if you would like to share your thoughts on the horror hotline 662-DOUBLEA.
Be sure to check out and bookmark our companion music playlists on Spotify and Youtube. Each week we will update them with songs from the movie as well as any other songs that come up during the discussion.
This episode was edited by Amy Kasio and mixed by De.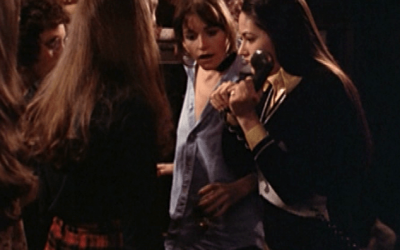 The first final girl? Join us as we dive deep in discussion about this holiday slasher classic starring Margo Kidder and Olivia Hussey.
read more