Season 1, Episode 2
Jennifer's Body (2009)
Jennifer's Body (2009)
Rating: 5.2/10 (107,868 votes)
Director: Karyn Kusama
Writer: Diablo Cody
Stars: Megan Fox, Amanda Seyfried, Johnny Simmons, Adam Brody
Runtime: 102 min
Rated: R
Genre: Comedy, Horror
Released: 18 Sep 2009
Plot: A newly possessed high school cheerleader turns into a succubus who specializes in killing her male classmates. Can her best friend put an end to the horror?
Listen to the Full Episode Now!




Happy 10 year anniversary Jennifer's Body! We are so excited to talk to you about the movie that sparked the creation of this podcast! Since it's release back in 2009, it has gone on to become a feminist and queer cult classic and is currently experiencing a revival in part due to the #MeToo movement.
Today's topics include: the failure of the marketing of this movie, how Megan Fox was unjustly torn apart at the time of release, Jennifer "eating the patriarchy", the queerness and psychic connection of Needy and Jennifer's relationship, the necklace, the music (unfortunately emo), fun facts and trivia, favorite scenes, and Ketchum manages to slide Lindsay Lohan into the conversation!
Share your scariest horror movie stories or ask us questions and we will put together a special episode where we will play your voicemails and respond and comment.
This week's movie question: Who is your favorite female villain in a horror movie? Call us now if you would like to share your thoughts on the horror hotline 662-DOUBLEA.
Be sure to check out and bookmark our companion music playlists on Spotify and Youtube. Each week we will update them with songs from the movie as well as any other songs that come up during the discussion.
This episode was edited by Amy Kasio and mixed by De.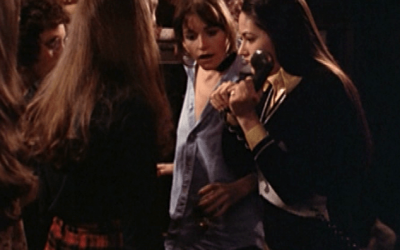 The first final girl? Join us as we dive deep in discussion about this holiday slasher classic starring Margo Kidder and Olivia Hussey.
read more