Season 1, Episode 7
Nightmare On Elm Street 2: Freddy's Revenge (1985)
A Nightmare on Elm Street 2: Freddy's Revenge (1985)
Rating: 5.5/10 (56,113 votes)
Director: Jack Sholder
Writer: David Chaskin, Wes Craven (characters)
Stars: Mark Patton, Kim Myers, Robert Rusler, Clu Gulager
Runtime: 87 min
Rated: R
Genre: Horror
Released: 01 Nov 1985
Plot: A teenage boy is haunted in his dreams by deceased child murderer Freddy Krueger, who is out to possess him in order to continue his reign of terror in the real world.
Listen to the Full Episode Now!




This week we head over to 1428 Elm Street to discuss Nightmare On Elm Street 2: Freddy's Revenge. Topics include: background on Freddy Krueger and the first movie, history of how this movie came to be, pop culture of 1985, why this movie is considered to have gay themes, Mark Patton's troubled journey and resurgence as an important gay icon, we dive into what was going on behind the scenes, the impact of AIDS and homophobia, the role reversal of having a male scream queen, the music, fun facts and trivia, and we hand out awards!
Share your scariest horror movie stories or ask us questions and we will put together a special episode where we will play your voicemails and respond and comment.
This week's movie question: What is your favorite NOES and why? Call us now if you would like to share your thoughts on the horror hotline 662-DOUBLEA. If we like what we hear we may use your message in an upcoming episode!
Be sure to check out and bookmark our companion music playlists on Spotify and Youtube. Each week we will update them with songs from the movie as well as any other songs that come up during the discussion.
This episode was edited by Amy Kasio and mixed by De.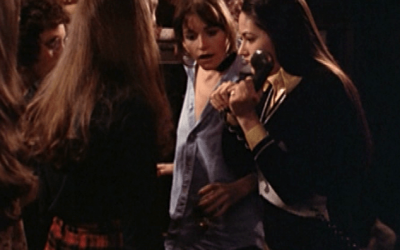 The first final girl? Join us as we dive deep in discussion about this holiday slasher classic starring Margo Kidder and Olivia Hussey.
read more