Season 1, Episode 1
It Follows (2014)
It Follows (2014)
Rating: 6.8/10 (186,237 votes)
Director: David Robert Mitchell
Writer: David Robert Mitchell
Stars: Bailey Spry, Carollette Phillips, Loren Bass, Keir Gilchrist
Runtime: 100 min
Rated: R
Genre: Horror, Mystery, Thriller
Released: 13 Mar 2015
Plot: A young woman is followed by an unknown supernatural force after a sexual encounter.
Listen to the Full Episode Now!




Welcome to the first episode of season one! Join your Double A hosts Amy Kasio and Amy Ketchum as they take a deeper look into one of their favorite horror movies: It Follows (2015).  Listen to the full episode in the player at the top of this page!
Today they discuss the 80's sounding synth music, the inspiration for the cinematography, the unsettling feeling of the mixed seasons and technology, a deeper meaning behind the pool, their love of the opening scene, the significance of the color pink, the monster and it's rules, Jay's father, hypercolor shirts, tater skins, urban decay, the ending, how they would escape the monster, they question if there should be a sequel or not, and then they wrap up the show by handing out awards and rating the movie!
Share your scariest horror movie stories or ask us questions and we will put together a special episode where we will play your voicemails and respond and comment.
This week's movie question: How would you escape "It"? Call us now if you would like to share your thoughts on the horror hotline 662-DOUBLEA.
Be sure to check out and bookmark our companion music playlists on Spotify and Youtube. Each week we will update them with songs from the movie as well as any other songs that come up during the discussion.
Links to extras discussed during the episode:
This episode was edited by Amy Kasio and mixed by De.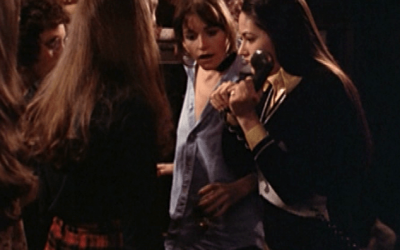 The first final girl? Join us as we dive deep in discussion about this holiday slasher classic starring Margo Kidder and Olivia Hussey.
read more