Season 1, Episode 6
Death Proof (2007)
Death Proof (2007)
Rating: 7.0/10 (251,924 votes)
Director: Quentin Tarantino
Writer: Quentin Tarantino
Stars: Kurt Russell, Zoë Bell, Rosario Dawson, Vanessa Ferlito
Runtime: 113 min
Rated: Not Rated
Genre: Thriller
Released: 31 May 2007
Plot: Two separate sets of voluptuous women are stalked at different times by a scarred stuntman who uses his "death proof" cars to execute his murderous plans.
Listen to the Full Episode Now!




Hey Butterfly, hop in my Dodge Charger and join us for Quentin Tarantino's Death Proof! This week we discuss: pop culture of 2007, grindhouse theaters, exploitation films, why we love this movie so much, stunt people, Zoe Bell, the differences in our two groups of women, cinematography, the music, But I'm A Cheerleader, we ponder over what happened to Lee, the lap dance, we hand out awards, and so much more!
Share your scariest horror movie stories or ask us questions and we will put together a special episode where we will play your voicemails and respond and comment.
This week's movie question: Who is your favorite Death Proof character and why? Call us now if you would like to share your thoughts on the horror hotline 662-DOUBLEA.
Be sure to check out and bookmark our companion music playlists on Spotify and Youtube. Each week we will update them with songs from the movie as well as any other songs that come up during the discussion.
This episode was edited by Amy Kasio and mixed by De.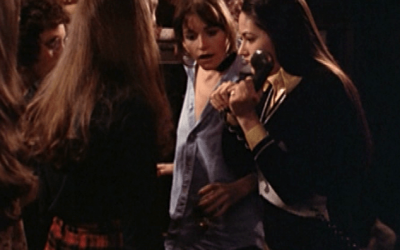 The first final girl? Join us as we dive deep in discussion about this holiday slasher classic starring Margo Kidder and Olivia Hussey.
read more