Season 1, Episode 3
Carnival of Souls (1962)
Carnival of Souls (1962)
Rating: 7.1/10 (18,274 votes)
Director: Herk Harvey
Writer: John Clifford (written)
Stars: Candace Hilligoss, Frances Feist, Sidney Berger, Art Ellison
Runtime: 78 min
Rated: PG
Genre: Horror, Mystery
Released: 02 Nov 1962
Plot: After a traumatic accident, a woman becomes drawn to a mysterious abandoned carnival.
Listen to the Full Episode Now!




This week's discussion is about the classic and influential Carnival Of Souls (1962).  Created on a budget of around $32,000, this psychological horror film written by John Clifford and directed by Herk Harvey (Centron Corporation) uses atmosphere, cinemetography, and location to convey the nightmare the lead actress (Candace Hilligoss) is living in. Listen now and find out why this movie is so beloved, influential, and a true cult classic.
Topics include: watching this movie in black and white vs color, how it came to be filmed at the Saltair, the lack of success at the time of release and it's surprise success in the 80s, horror movie hosts, the organ music, Ketchum's "sensible" pump organ, breaking social conventions, a feeling of not belonging, we hand out awards, Ketchum shares the history of the Saltair and ends the episode with a ghost story!
Share your scariest horror movie stories or ask us questions and we will put together a special episode where we will play your voicemails and respond and comment.
This week's movie question: How do you feel Carnival of Souls has impacted horror over the years? Call us now if you would like to share your thoughts on the horror hotline 662-DOUBLEA.
Be sure to check out and bookmark our companion music playlists on Spotify and Youtube. Each week we will update them with songs from the movie as well as any other songs that come up during the discussion.
This episode was edited by Amy Kasio and mixed by De.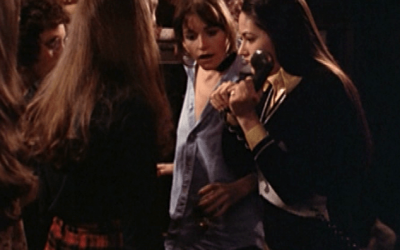 The first final girl? Join us as we dive deep in discussion about this holiday slasher classic starring Margo Kidder and Olivia Hussey.
read more