Season 1, Episode 10
Black Christmas (1974)
Black Christmas (1974)
Rating: 7.2/10 (29,449 votes)
Director: Bob Clark
Writer: Roy Moore (screenplay)
Stars: Olivia Hussey, Keir Dullea, Margot Kidder, John Saxon
Runtime: 98 min
Rated: R
Genre: Horror, Mystery, Thriller
Released: 20 Dec 1974
Plot: During their Christmas break, a group of sorority girls are stalked by a stranger.
Listen to the Full Episode Now!




This week we deep dive into the original Black Christmas from 1974! Topics include: Christmas time, pop culture of 1974, the history of making this movie, we ask "What's Barb's deal??", we go over the themes of the movie, we discuss the unhinged killer and lack of reveal, cinematography & POV, the music, the ending, favorite scenes, fun facts and trivia, and we hand out awards! Movie discussion starts at 24 mins.
Watch the movie trailer here: https://www.youtube.com/watch?v=k6JuJHmVsh4
Share your scariest horror movie stories or ask us questions and we will put together a special episode where we will play your voicemails and respond and comment.
This week's movie question: Should their be a sequel to Jennifer's Body and what would that be like? Call us now if you would like to share your thoughts on the horror hotline 662-DOUBLEA.
Be sure to check out and bookmark our companion music playlists on Spotify and Youtube. Each week we will update them with songs from the movie as well as any other songs that come up during the discussion.
This episode was edited by Amy Kasio and mixed by De.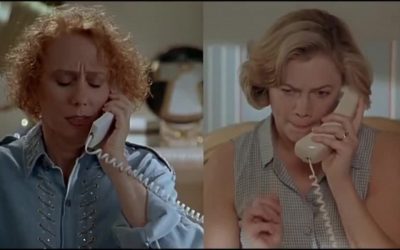 Our Thanksgiving special filled with lots of laughs where we talk about the dark comedy cult classic from John Waters, Serial Mom.
read more