Season 1, Episode 5
The Final Girls (2015)
The Final Girls (2015)
Rating: 6.6/10 (31,054 votes)
Director: Todd Strauss-Schulson
Writer: M.A. Fortin, Joshua John Miller
Stars: Taissa Farmiga, Malin Akerman, Alexander Ludwig, Nina Dobrev
Runtime: 88 min
Rated: PG-13
Genre: Comedy, Drama, Fantasy, Horror, Thriller
Released: 05 Nov 2015
Plot: A young woman grieving the loss of her mother, a famous scream queen from the 1980s, finds herself pulled into the world of her mom's most famous movie. Reunited, the women must fight off the film's maniacal killer.
Listen to the Full Episode Now!




It's time for summer camp! Join us as we discuss one of Kasio's favorite movies of all time – The Final Girls (2015)!
Topics include:
Meta horror, the death of a parent, themes of the movie, cinematography (it's amazing!), the monster and it's rules (typical slasher), the music (such as Bette Davis Eyes and Like A Prayer), endless gushing over Angela Trimbur's performance (call us, we love you!), the end fight scene and stripping, what a sequel might look like, favorite kills, the absurdity of dumping m&m's into popcorn, we hand out awards to the movie, and ask: WHERE'S THE BEEF!
Share your scariest horror movie stories or ask us questions and we will put together a special episode where we will play your voicemails and respond and comment.
This week's movie question: Should there be a sequel to The Final Girls and what would it be like? Call us now if you would like to share your thoughts on the horror hotline 662-DOUBLEA.
Be sure to check out and bookmark our companion music playlists on Spotify and Youtube. Each week we will update them with songs from the movie as well as any other songs that come up during the discussion.
This episode was edited by Amy Kasio and mixed by De.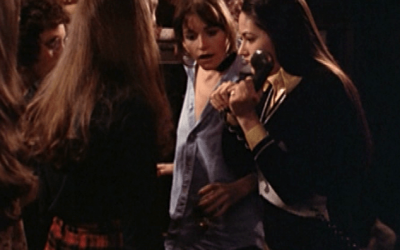 The first final girl? Join us as we dive deep in discussion about this holiday slasher classic starring Margo Kidder and Olivia Hussey.
read more