Season 1, Episode 4
Summer Of '84 (2018)
Summer of 84 (2018)
Rating: 6.7/10 (25,521 votes)
Director: François Simard, Anouk Whissell, Yoann-Karl Whissell
Writer: Matt Leslie, Stephen J. Smith
Stars: Graham Verchere, Judah Lewis, Caleb Emery, Cory Gruter-Andrew
Runtime: 105 min
Rated: Not Rated
Genre: Drama, Horror, Mystery, Thriller
Released: 10 Aug 2018
Plot: After suspecting that their police officer neighbor is a serial killer, a group of teenage friends spend their summer spying on him and gathering evidence, but as they get closer to discovering the truth, things get dangerous.
Listen to the Full Episode Now!




This week we are bicycling our way back to 1984!
Join us as we discuss:
The history behind making this movie, the suburbs, the authenticity of the 80s aesthetic, what was happening in the real world during 1984, the 80's inspired synth soundtrack, Kasio has an excuse to talk about the movie Risky Business, what it was like to be a kid in the 80s, the ending, what a sequel might look like, Kraft macaroni and cheese, walkie talkies, spying on neighbors, milk cartons and missing kids.
Share your scariest horror movie stories or ask us questions and we will put together a special episode where we will play your voicemails and respond and comment.
This week's movie question: Should their be a sequel and if so, how much time should pass in the story? Call us now if you would like to share your thoughts on the horror hotline 662-DOUBLEA.
Be sure to check out and bookmark our companion music playlists on Spotify and Youtube. Each week we will update them with songs from the movie as well as any other songs that come up during the discussion.
This episode was edited by Amy Kasio and mixed by De.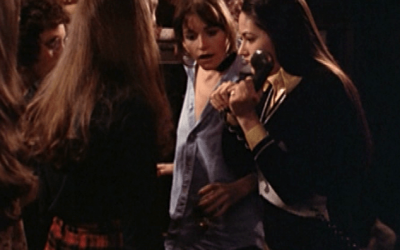 The first final girl? Join us as we dive deep in discussion about this holiday slasher classic starring Margo Kidder and Olivia Hussey.
read more